How the construction industry navigates the key economic and political changes in the coming two years will be a dominant factor in determining future growth as we leave the EU.
Today, at the Construction Products Association's annual Spring Lunch over 500 guests across the construction supply chain, including manufacturers and distributors, major contractors, politicians and the media gathered to hear the CPA make their case for what the industry needs to remain competitive on a global stage. The plan invites government and industry colleagues to play their part in supporting an industry that contributes £55 billion to the economy each year and provides employment for 300,000 people.  
The CPA's proposed policy challenges to be tackled include:
Deeper cooperation across industry and with government to encourage innovation, improve productivity, lower costs, reduce waste, and build a highly skilled workforce
Proper representation for the construction products sector on leadership councils
An enhanced National Infrastructure and Construction Pipeline to increase visibility and clarity of major private projects
Embedding a 'balanced scorecard' approach to procurement which values the local economic and environmental contributions of construction product manufacturers and suppliers
A level playing field with international competitors in regard to taxation and the costs of doing business
Good regulations which sustain a fast changing, post-Brexit market.
Speaking at the event, Carl Arntzen, Construction Products Association Chairman, said: "Brexit has the very real potential of upending some established norms of business we've grown accustomed to. It's still early days, but the CPA has already been actively engaged with government to share our perspectives and make clear where our members see opportunities or have concerns.
"Consider that construction product manufacturing is worth a very substantial £55 billion per year, over a third of total construction turnover.  We employ nearly 300,000 people, more than automotive manufacturing and aerospace manufacturing combined.
"And when you realise that nearly 80% of all construction products used in the UK are made in the UK, you appreciate that there is a big opportunity to support British businesses and attract more investment if conditions are favourable."
Dr. Diana Montgomery, Construction Products Association Chief Executive, said: "The construction industry is forecast to grow between now and 2019, providing an extra £5.3 billion of economic activity for the wider economy. The CPA will continue to champion our members' interests, supporting and lobbying government and public bodies in the UK and European Union to develop effective, evidence-based policies and solutions."
View the CPA's strategy for 2017 here.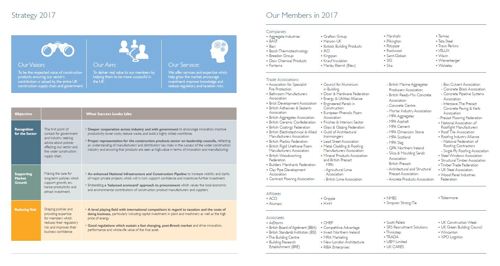 For more information contact:
Emma Salmon, CPA Marketing and Communications Executive
Tel:      020 7323 3770
E-mail:  emma.salmon@constructionproducts.org.uk