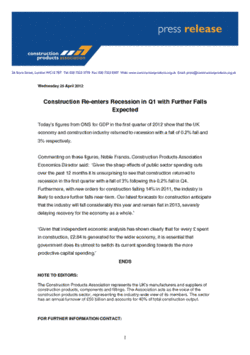 Today's figures from ONS for GDP in the first quarter of 2012 show that the UK economy and construction industry returned to recession with a fall of 0.2% fall and 3% respectively.
Commenting on these figures, Noble Francis, Construction Products Association Economics Director said:  'Given the sharp effects of public sector spending cuts over the past 12 months it is unsurprising to see that construction returned to recession in the first quarter with a fall of 3% following the 0.2% fall in Q4. Furthermore, with new orders for construction falling 14% in 2011, the industry is likely to endure further falls near-term. Our latest forecasts for construction anticipate that the industry will fall considerably this year and remain flat in 2013, severely delaying recovery for the economy as a whole.'
'Given that independent economic analysis has shown clearly that for every £ spent in construction, £2.84 is generated for the wider economy, it is essential that government does its utmost to switch its current spending towards the more productive capital spending.'
ENDS
NOTE TO EDITORS:
The Construction Products Association represents the UK's manufacturers and suppliers of construction products, components and fittings. The Association acts as the voice of the construction products sector, representing the industry-wide view of its members. The sector has an annual turnover of £50 billion and accounts for 40% of total construction output.
FOR FURTHER INFORMATION CONTACT:
Simon Storer
Communications and External Affairs Director
Construction Products Association
Tel : 020 7323 3770
Fax : 020 7323 0307
Mobile : 0770 286 2257
E-mail : simon.storer@constructionproducts.org.uk
Noble Francis
Economics Director
Construction Products Association
Tel : 020 7323 3770
Fax : 020 7323 0307
Mobile: 0791 261 2882