Loft Conversion Project Guide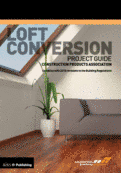 The guide is produced by the Construction Products Association, in collaboration with the Association of Consultant Approved Inspectors (ACAI), Local Authority Building Control (LABC), National House Building Council (NHBC), Federation of Master Builders (FMB) and the Energy Saving Trust (EST).
As noted in the preface, Communities and Local Government has not approved the guide. As a result, even following the guidance exactly does not ensure building work complies with building regulations. Therefore, anyone proposing to carry out work covered by the guide should contact a Building Control Body before starting work to check that their proposals comply with Building Regulations.
The purpose of the guide is to simplify the Building Regulations process, assist in compliance and, where applicable, offer solutions to achieve minimum, good and best standards for construction. It is intended as an easy-to-use guide designed to bring together solutions offered in the current Approved Documents and third-tier guidance such as industry literature. It is not possible to, nor is it intended that this guide should cover every aspect of the design. Primarily, its purpose is to highlight the basic design considerations which need to be addressed. The guide is not a statement of law.
The guide does not include guidance on the following:
Any dwelling where the current number of storeys (or once converted number of storeys) exceeds four (including basements).
Modular units.
Unusual or unorthodox design and construction.
For all of these, your chosen Building Control service provider should be approached for additional guidance.