A guide to understanding the embodied impacts of construction products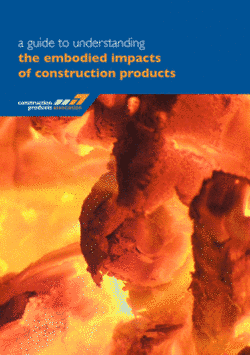 The purpose of this guide is to improve understanding across the construction industry of the embodied impacts of construction products.
The quest for a more sustainable built environment and more recently for a low carbon built environment has turned the spotlight to embodied impacts of construction products, especially embodied carbon and increasingly embodied water.
This Guide explains how to assess the environmental impact of construction products. All products, not just construction products, impact on the environment and there is increasing demand from consumers and society to know what that impact is, enabling the consumer to make informed decisions about the products they purchase. Organic food products have been labelled since the mid-1940s, fair trade products have become familiar in the coffee, chocolate and fruit markets, timber products such as garden furniture may be certified ascoming from sustainably managed forests, and even fish may now be labelled as caught sustainability. More recently, major retail stores, especially the supermarkets, have begun to look at their carbon food miles and the carbon footprint of their products.