Regional construction contracts offer hope for recovery, but regional imbalances continue
A regional analysis of construction contract awards in 2019 indicates positive signs of recovery for the construction industry from the impact of Covid-19. The annual 'Regional Construction Hotspots in Great Britain 2020' report from Barbour ABI and the Construction Products Association (CPA) provides a regional analysis of construction contract awards, accounting for local trends and particularities that aren't always reflected at a national level. By analysing the value of contracts in regions across residential, infrastructure and commercial sectors, the report identifies 'hotspots' and 'coldspots' as pockets of growth or contraction below long-term averages.
This year's report indicates clear hotspots for upcoming construction activity over the next 6-12 months in Great Britain with more hotspots than coldspots. This was true for all regions of the country except one. A strong pipeline of contract awards last year should bode well for the construction industry recovery from the Covid pandemic, particularly as they are spread across regions as well as the residential, commercial and infrastructure sectors. The contracts awarded range from lower value such as new supermarkets or office refurbs for short-term activity, to long-term major infrastructure upgrades valued at hundreds of millions that will span years.
The notable exception to a largely positive picture was in the North East, where coldspots outweighed hotspots. As it's also the region with the highest regional unemployment rate and the lowest gross value added (GVA) per head, it reflects how much the government has to do to fulfil its 'levelling up' agenda. London remains UK's largest regional economy and construction GVA in 2018 was £20.5 billion, accounting for17.7% of the UK construction total. Three London Boroughs featured in the top five areas for the highest value of contract awards in 2019, with London-based projects making up half of the highest value contracts (see tables below).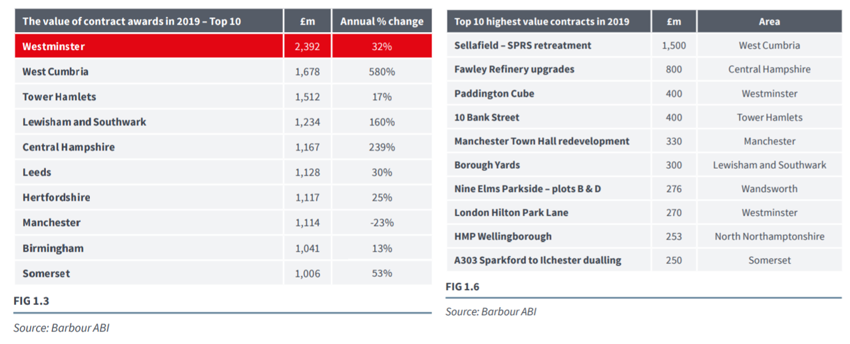 Many of the contract awards analysed in the report were paused this year across sectors and regions of the country as social distancing measures were implemented on site in response to the Covid-19 pandemic. However, the value of restarted projects overtook the value of delayed projects at the end of May this year, across all sectors, following on from the easing of restrictions (see graph below). London accounted for the biggest proportion of delayed projects at peak during the social distancing measures – pointing to the high value of projects in the capital - and given the wider restrictions on construction work put in place by the Scottish Government, Scotland accounted for the next highest proportion.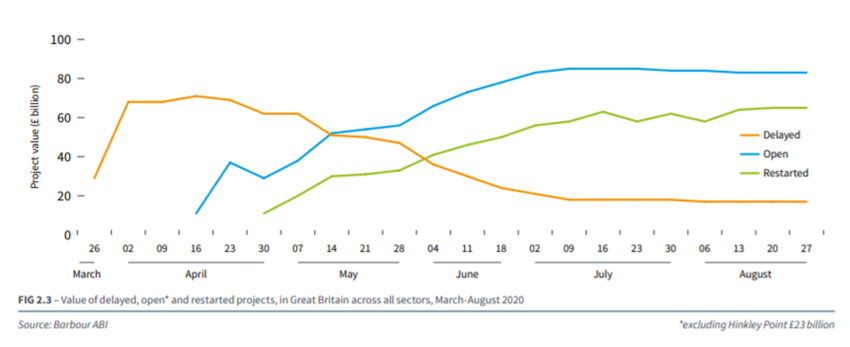 Rebecca Larkin, Senior Economist at the CPA, commented: "Looking back to contracts awarded in 2019 seems like a long time ago given the abrupt changes to the economic landscape since the Covid-19 pandemic. Underscoring its relevance, however, work on the majority of these projects would have been underway, or set to start, when the pandemic hit and this year's analysis signposts that this pipeline of activity remains resilient to support the construction recovery across the country. Encouragingly, hotspots outnumbered coldspots in all but one region, providing near-term work on projects ranging from office fit-outs and student accommodation blocks, to longer-term major infrastructure projects in roads, rail and energy.
"The immediate negative impact of the covid-19 lockdown was clear for the construction sector. The trends in the weekly tracking data illustrate the industry's motivation to return to site as quickly as possible once new working procedures were in place, with 'normal' levels of activity returning in all sectors and regions by July. Although this period of reduced activity will also coincide in an inevitable dip in contract awards, the healthy pipeline of projects and regional hotspots will help drive the near-term recovery."
Tom Hall, Chief Economist at Barbour ABI, commented: "The construction industry deserves a lot of credit for returning to work so quickly after the widespread site closures in March and April. The focus so far has been on completing projects already underway. Even with downside risks evident from further Covid-19 lockdowns, increasing unemployment and Brexit there still appears to be plenty of construction activity for firms to get involved with."
-ENDS-
Notes to editors:
1. Barbour ABI is a leading provider of construction intelligence services. With a team of in-house research specialists and a dedicated economics team, it provides commercially relevant insight and unique analysis of trends and developments within the building and construction industry.
Barbour ABI is the chosen provider of Construction New Orders estimates data to the Office for National Statistics and partner of the Government's Infrastructure and Projects Authority in providing the National Infrastructure and Construction Pipeline. Barbour ABI also provides data for independent organisations, such as the Construction Products Association.  For more information, go to www.barbour-abi.com or follow on Twitter @BarbourABI for all the latest construction data news.
2. The Construction Products Association is the leading organisation that represents and champions construction product manufacturers and suppliers. This vital UK industry defines our built environment, providing the products and materials needed for homes, offices, shops, road, railways, schools and hospitals. Our industry directly provides jobs for 373,000 people across 24,000 companies and has an annual turnover of £61 billion.
The CPA produces a range of economic reports that provide our members, policy-makers, and wider industry with a detailed understanding of the construction market to facilitate planning and business development. Members of the Association are entitled to receive these insights at no additional cost. Non-members can make one off purchases or subscribe for a full information package.
For further information contact:
Lucy Thomas, PR Manager, Barbour ABI
Tel: 0515 353 3636
Mobile: 07976 837339
E-mail: lucy.thomas@barbour-abi.com
Matt McKeown, CPA Senior Communications Executive
Tel: 020 7323 3770
Mobile: 07397548535
E-mail: matt.mckeown@constructionproducts.org.uk