Ahead of the Autumn Budget on 22 November, Dr Diana Montgomery, Chief Executive of the Construction Products Association, has written to the Chancellor to welcome a renewed commitment to an Industrial Strategy, and acknowledge industry's responsibility to work with government to ensure the competitiveness of UK plc on a new global stage.
The letter outlines the contribution the construction products industry makes to the UK economy, directly providing employment for almost 300,000 people across 22,000 companies, and urges the Chancellor to consider a range of short and long-term measures covering housing, infrastructure, and investment and UK competitiveness.
View the CPA's submission to the Chancellor here.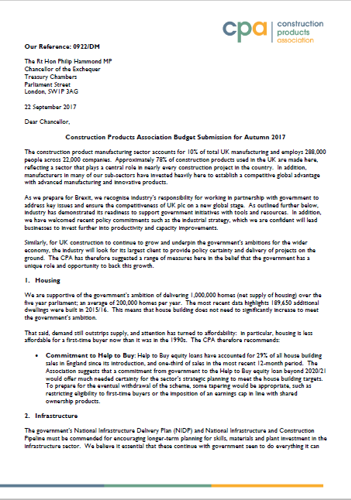 Follow the Construction Products Association on Twitter: https://twitter.com/CPA_Tweets.