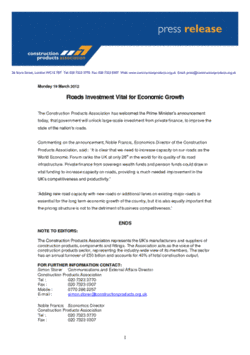 The Construction Products Association has welcomed the Prime Minister's announcement today, that government will unlock large-scale investment from private finance, to improve the state of the nation's roads.
Commenting on the announcement, Noble Francis, Economics Director of the Construction Products Association, said:  'It is clear that we need to increase capacity on our roads as the World Economic Forum ranks the UK at only 26th in the world for its quality of its road infrastructure. Private finance from sovereign wealth funds and pension funds could draw in vital funding to increase capacity on roads, providing a much needed improvement in the UK's competitiveness and productivity.'
'Adding new road capacity with new roads or additional lanes on existing major roads is essential for the long term economic growth of the country, but it is also equally important that the pricing structure is not to the detriment of business competitiveness.'
ENDS
NOTE TO EDITORS:
The Construction Products Association represents the UK's manufacturers and suppliers of construction products, components and fittings. The Association acts as the voice of the construction products sector, representing the industry-wide view of its members. The sector has an annual turnover of £50 billion and accounts for 40% of total construction output.
FOR FURTHER INFORMATION CONTACT:
Simon Storer
Communications and External Affairs Director
Construction Products Association
Tel : 020 7323 3770
Fax : 020 7323 0307
Mobile : 0770 286 2257
E-mail : simon.storer@constructionproducts.org.uk
Noble Francis
Economics Director
Construction Products Association
Tel : 020 7323 3770
Fax : 020 7323 0307
Mobile : 079 1261 2882