For over 20 years, the publishing industry has used Digital Object Identifiers (DOIs) to enable permanent identification of journal articles and documents on the internet. These identifiers are assigned to published items by a Registration Agency (RA) and enable those items to be referenced and accessed consistently, forever, with no risk of those links ever becoming broken. Millions of these links are used every month in the information industry.
BSI, NBS & the CPA are looking to apply these identifiers to physical objects, i.e. Construction Products, as a new service for the construction industry.
What is the Construction Product Digital Object Identifier (CPDOI) offer?
For construction product manufacturers of any size, there is currently no system to enable control, maintenance and dissemination of up-to-date product information through the design, build and maintain lifecycle.

The CPDOI is a potential subscription service from BSI & NBS. As a subscriber, a manufacturer would be issued with CPDOIs for each of their registered products (in the form of a digital object identifier) that can be used across the supply chain to ensure traceability, maintainability and accuracy of their product data. It will allow all those involved in the supply, specification, use and maintenance of construction products to always access a set of controlled, standardised and up-to-date product information, through a simple digital identifier.
Here is a simple diagram to illustrate the CPDOI offer: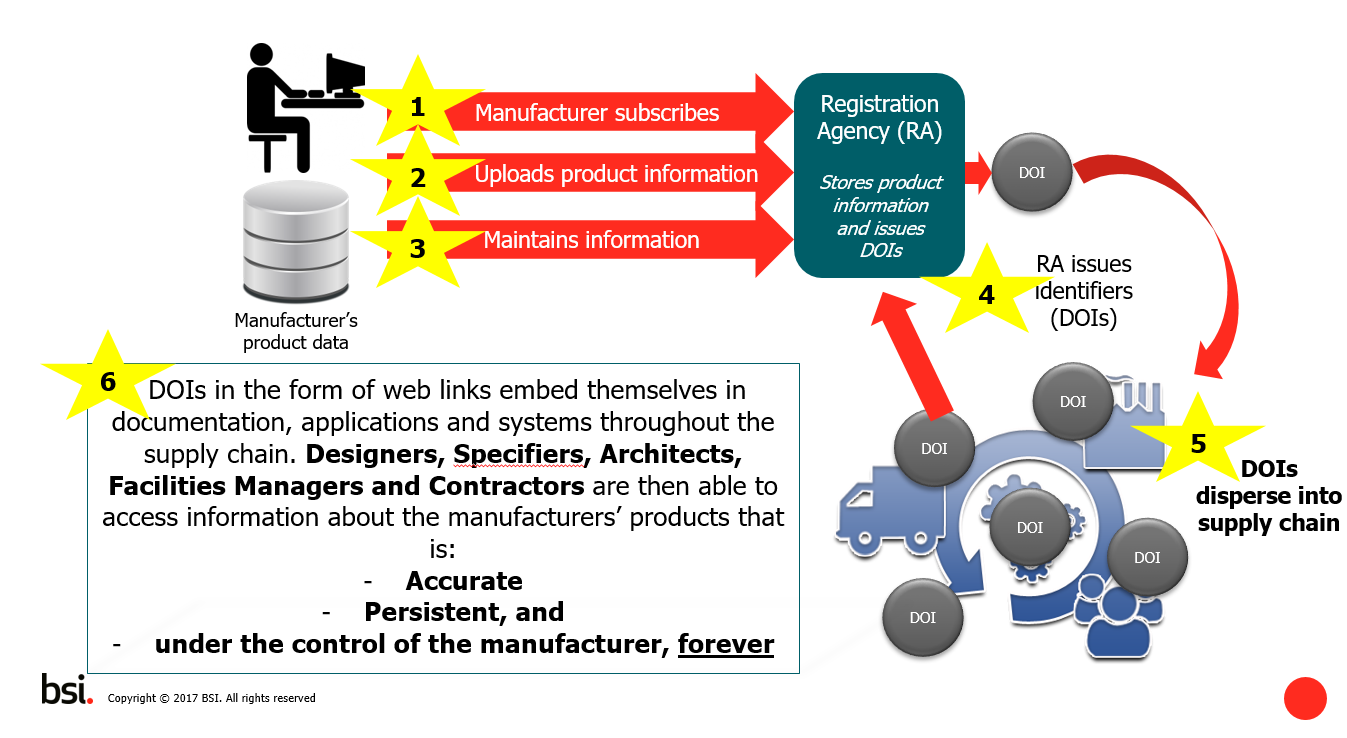 Why are BSI, NBS & CPA creating this service for the construction industry?
The lifespan of data on the web remains short. Links break and data rots. The existence of Construction Product Identifiers will mean that manufacturers remain in control of the data about their products that travels along the supply chain, routing users back to a collection of data that is owned and controlled by the manufacturer.

Tell us what you think of CPDOI
In order to understand how they can optimize the CPDOI offer for the industry BSI and NBS have commissioned GfK Ltd, an independent research agency to conduct a survey with construction product manufacturers. This survey is for individuals who are involved in deciding how to market products or provide information about their company products to end users. This is your opportunity to find out more about this new service and tell us what you think of it before it becomes available. The survey closes on Tuesday 28th November 2017, if you are interested please take part here.