It wasn't until two-thirds of the way through the Budget that the Chancellor's focus turned to housing and he unveiled his headline-grabbing announcements. They were pretty hard to ignore: £44 billion of funding, loans and guarantees to increase net additional housing supply to 300,000 homes a year by the mid-2020s and the abolition of stamp duty for 95% of first-time buyer purchases. But what does this mean in practice?
Of the £44 billion in funding for housing, only £15.3 billion of this was newly-committed. And of this £15.3 billion, £8 billion are guarantees – not on the government's balance sheet and still in the 'exploring options' stage.
 The remaining £7 billion are costed measures and include:
A £1.1 billion land assembly fund to be used by Homes England (formerly the Homes & Communities Agency) to develop sites in partnership with private developers
A further £2.7 billion for the Housing Infrastructure Fund. £2.3 billion opened the Fund in Autumn Statement 2016, which aims to bridge infrastructure funding shortfalls on sites where building has stalled and provide larger sums for strategic sites that require high-impact infrastructure projects.
A rise in the borrowing cap for local authorities' Housing Revenue Accounts, worth £1 billion. This is restricted to areas of high affordability pressures and councils will have to bid for their caps to be increased.
An extra £1.5 billion for the existing £3 billion Home Building Fund, providing development finance for SMEs
£630 million for on-site infrastructure or land remediation on small, stalled sites
£400 million of loan funding for estate regeneration projects – a continuation of David Cameron's pledge to transform 100 housing estates in Britain (£140 million set aside in December 2016).
When ongoing policy support such as Help to Buy is included in the overall £44 billion figure, it is clear that the government's focus is directed to the private side of house building and, increasingly, to the SME section of the industry, which has been on a long-term downward trend since the end of the 1980s. However, even with more than a year's access to the first release of the Home Building Fund, SME house builders continue to report access to finance as one of their largest barriers.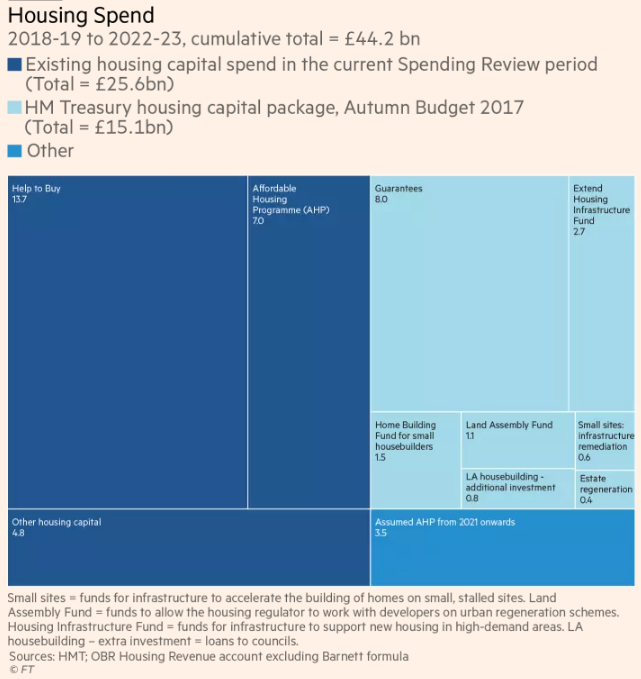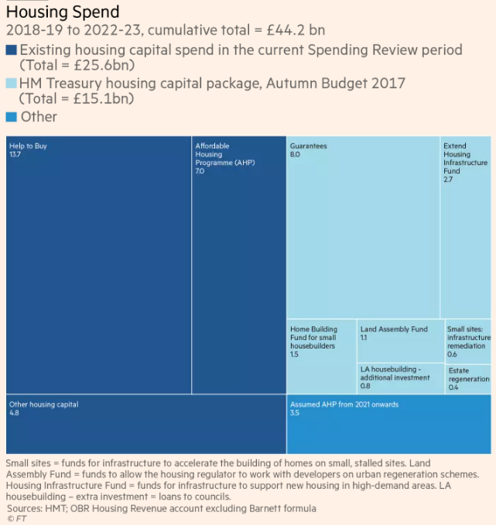 The Conservatives' party conference signalled a turning point in the government's attitude to housing and housing provided with public funding, with the announcement of £2 billion for affordable housing, which is expected to provide 25,000 homes of affordable tenure, including social rent. In addition, the Budget confirmed the concession made on raising the Housing Revenue Account borrowing cap for local authority house building.
The costings in the OBR's accompanying publication also provide some much-awaited news on another of David Cameron's major housing announcements: Starter Homes. Not good news, though, as it is the funding for Starter Homes that has been reassigned to cover these latest affordable housing announcements.
Which brings me on to the main question – will these announcements have any effect on house building? For the cynics out there, the abandoning of Starter Homes (200,000 homes pledged) and the full rollout of the other much-vaunted 2015 policy proposal of Right to Buy for housing association tenants illustrate how large housing announcements can be cast aside.
For the optimists, extensions to the Housing Infrastructure Fund and Home Building Fund, plus additional cash for land assembly and small sites provide the early groundworks for developing the longer-term strategic policies outlined in the Housing White Paper and helping local authorities get Local Plans in place. After all, upping delivery to 300,000 homes per year is not something that can happen overnight.
But perhaps the starkest conclusion over the effect of these announcements comes from the OBR, whose forecasts for residential investment have been lowered, whilst its forecasts for housing supply remain unchanged.