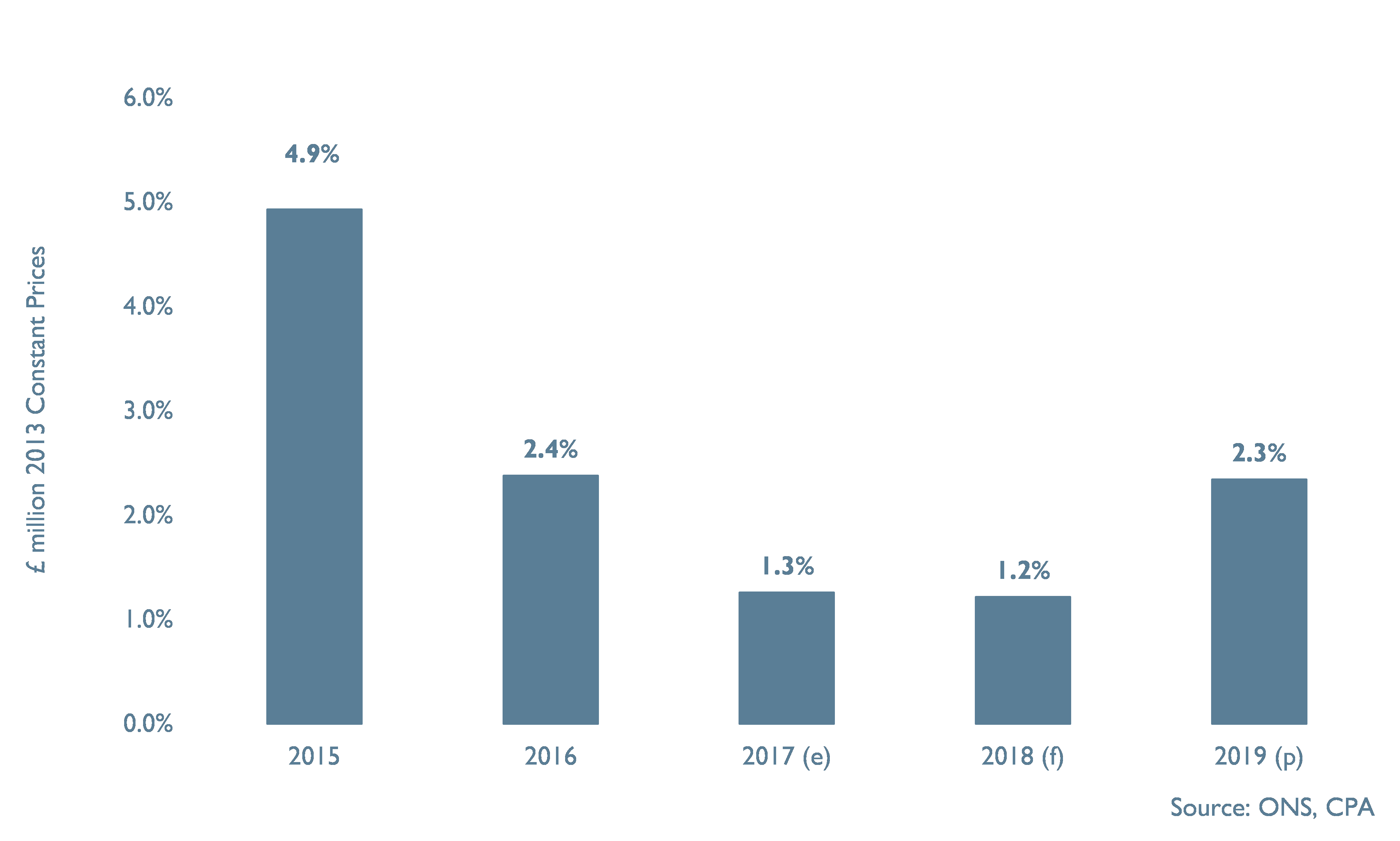 Construction industry growth set to continue in 2017
Despite ongoing Brexit-related uncertainties, near-term prospects for the construction industry have improved according to our latest Spring forecast. In 2017, construction output is forecast to rise 1.3%, followed by 1.2% growth in 2018, which are upward revisions from those predictions made in February (0.8% and 0.7% respectively). Thereafter, growth is projected to accelerate to 2.3% in 2019 (up from 2.2% previously). Although growth forecasts have been upgraded for the next three years, primarily due to stronger-than-expected performance maintained after the EU referendum, the underlying determinants of activity remain broadly unchanged since our Winter forecasts.
…driven by infrastructure
As seen in recent forecasts, infrastructure will act as the key driving force behind the industry's expansion, with output forecast to increase 7.3% in 2017 and 11.1% in 2018. The strong growth rates are heavily dependent on major works occurring on high-profile projects in the water & sewerage, electricity and rail sub-sectors, such as the Thames Tideway Tunnel, Hinkley Point C and HS2 – although further delays on the latter two controversial schemes cannot be ruled out.
Furthermore, in December 2016, the government published a new National Infrastructure and Construction Pipeline outlining more than £500 billion worth of planned infrastructure investment over this Parliament and beyond. Of this, £300 billion was committed into projects by 2020/21. This came after the chancellor announced a new National Productivity Investment Fund (NPIF) in the Autumn Statement, setting out £23 billion worth of additional investment between 2017/18 and 2021/22. However, such investment announcements are only meaningful if they translate into action. Moreover, concerns have risen whether there is enough skills and capacity to ensure the successful delivery of these projects.
and private housing activity…
Although infrastructure investment remains on top of the political agenda, private housing also continues to serve as a stimulus to construction output growth. There is no doubt that the housing market was distorted in 2016 by the stamp duty changes introduced in April but given the underlying support from government policies such as Help to Buy, low interest rates and robust house price growth, private housing starts were estimated to have risen by 7.0% last year. These market fundamentals are expected to remain supportive of housing demand in the near-term and, as a result, we forecast private housing starts to rise 3.0% in 2017, followed by 2.0% in 2018 and 2019.
…offsetting falls in other sectors.
Meanwhile, within commercial, offices construction output is forecast to decline 1.0% in 2017 and 12.0% in 2018, as the falls in new orders seen in the second half of 2016 – largely owing to post-referendum uncertainty – filters through to activity on the ground. Despite this, construction activity currently remains high in London and across regional cities, including Manchester, Birmingham, Leeds, Sheffield and Cardiff, reflecting strong demand for high-profile space mainly from the technology, media and telecoms (TMT) sector. Industry survey reports however, have factored in a slowdown in tenant demand going forward suggesting that the downward impact of post-referendum uncertainty on new development decisions will linger in the near-term.
Growth forecasts for the retail sub-sector remain broadly unchanged since the Winter publication, with output forecast to fall 4.0% in 2017 and 2.0% in 2018, as rising inflation bites into households' spending power, curbing demand for retail premises, whilst the ongoing structural change within the retail continues apace in favour of warehouses space.
Industrial factories construction is also expected to decline over the next three years, reflecting the fall in new investment in 2016 against a backdrop of uncertainty. While the Sterling depreciation has undoubtedly provided a boom for UK exporters, manufacturers have also cited higher energy costs, limiting the net benefits. Activity in the sub-sector is forecast to decline 5.0% in 2017 and 4.0% in 2018.
But risks remain to the downside…
In the short-term, rising costs linked to the weaker Sterling exchange rate and falls in contract awards are two downside risks to construction growth but as we look towards the long-term, issues relating to Brexit, ranging from trade terms, labour movements and regulations/standards are likely to unveil a whole new set of challenges for the industry, with the impact yet unknown.
In spite of cloudy long-term horizon, the UK construction industry is set to expand 4.9% by 2019.

Figure 1: Construction output growth (%)