Stepping into the unknown: The impact of the EU Referendum on UK commercial offices
The UK commercial offices sector has remained largely exposed to the uncertainties created by the EU referendum – both in the pre and post periods.  This doesn't come as a surprise given it is a key driver of the wider commercial sector and has increasingly been reliant on external investors for large projects.  One of the many pressing, yet unanswered, questions has been around the likely impact of the uncertainty created by the EU referendum.   
Rewinding back to the impact of the financial crisis in late-2008 and 2009, it is clear there are close links between activity in commercial offices and overall UK economic growth.  Given the cyclical nature of the sub-sector, the manner in which the macro-economy unfolds will be fundamental in providing an indication of the direction of offices construction growth going forward.  Although this may sound simple, the macroeconomic environment has its own set of challenges and an equally cloudy outlook.  Also, it is not particularly helpful to compare the impacts of the financial crisis, a global economic shock, to that of a domestic referendum outcome.  Reflecting the level of uncertainty, three scenarios are considered.
Central scenario
After three years of double-digit growth rates, the CPA's central scenario expects that offices activity will remain supported this year.  Projects in the current pipeline are unlikely to be impacted by the vote for Brexit as pre-lets have confirmed demand, meaning construction work is likely to carry on into 2017 as scheduled.  Reflecting this, growth of 6.0% is estimated for 2016.
Next year, however, the picture appears less rosy.  Even before the referendum, business investment and global economic conditions were already losing steam and the weakness in the former was only likely to have been exacerbated by the uncertainty created by the vote – however, to what extent, remains unclear as yet.
The most notable knock-on effect has been on business confidence, which has dented demand from domestic firms and overseas investors for commercial property.  According to RICS's UK Commercial Property Market Survey (which includes responses after the referendum outcome was known) investment enquiries fell sharply to a net balance of -16% in Q2, from +25% in Q1, whilst foreign investor appetite declined at an even faster pace.  This "drop-off in investor interest" was more pronounced in London, which doesn't come as a surprise given that activity is largely tied to foreign investments that makes the capital highly vulnerable.
Following the Brexit vote, two high-profile speculative developments, 22 Bishopsgate and 40 Leadenhall, saw their plans go under review amid post-referendum uncertainty.  With the near-term economic outlook unclear, new contract awards are likely to stall further as businesses will remain cautious and risk-averse until the nature of the EU exit process becomes clearer.  Against a background of weaker investment prospects, activity in commercial offices is expected to contract by 5.0% in both 2017 and 2018.  
Figure 1: Commercial offices output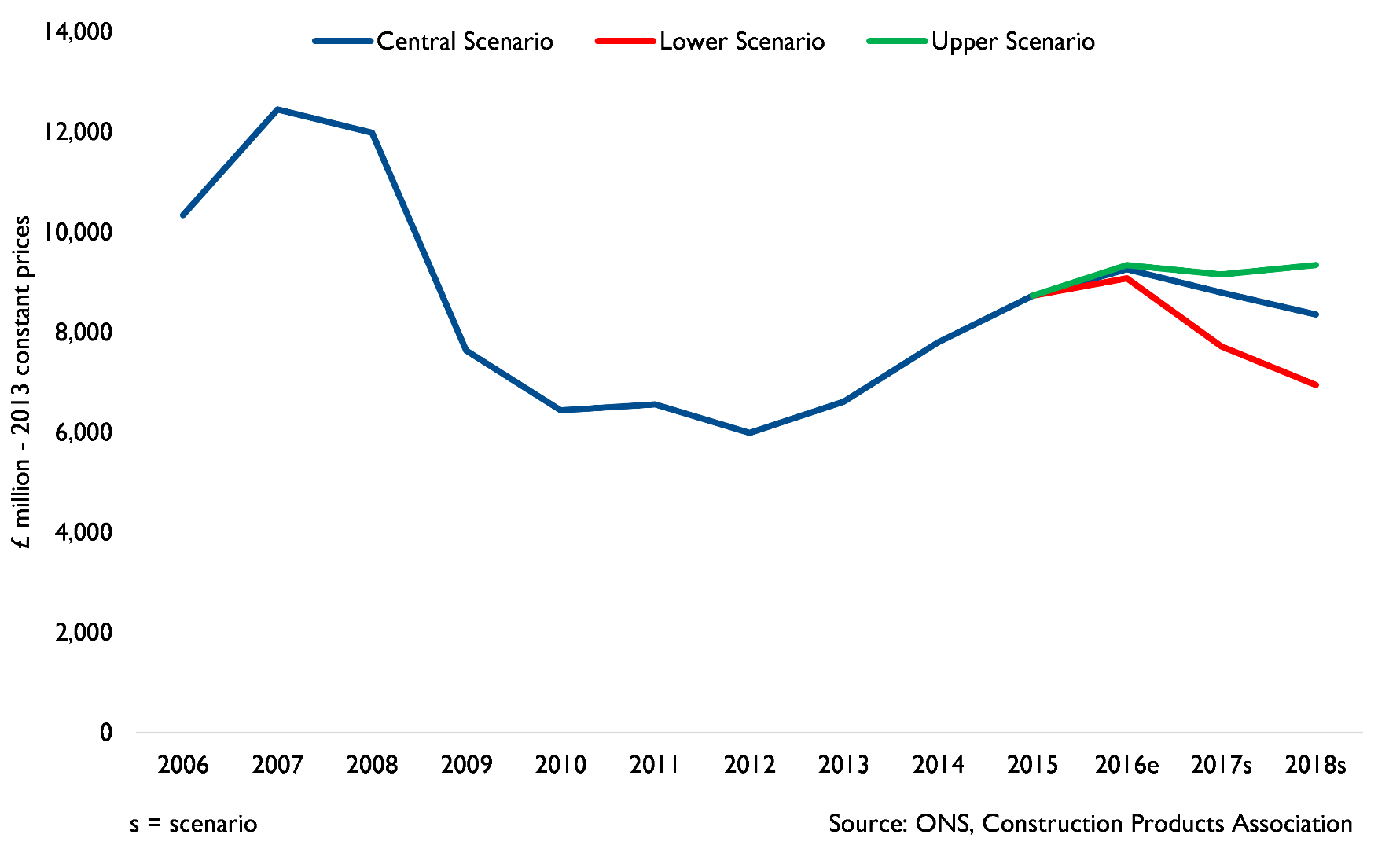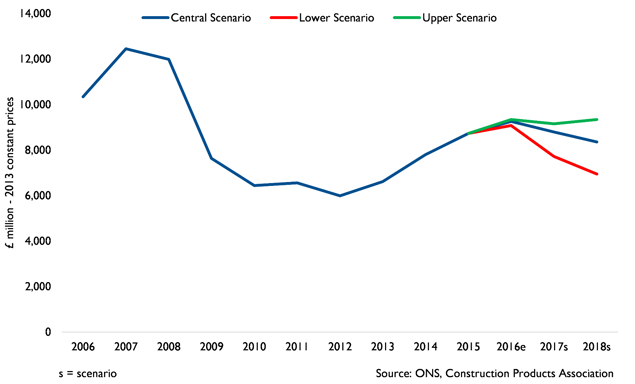 It is indeed difficult to predict the outlook of any sector and it would be too naïve to guarantee that the offices sub-sector adheres to that of the central scenario, given the different paths the UK economy could take.  We therefore consider two other possible scenarios for the next three years (Figure 2).
Figure 2: Commercial offices scenarios (% growth)

Lower scenario
Under the less optimistic scenario, growth in the offices sub-sector will be 2 percentage points lower than in the central scenario in 2016.  This assumes a prolonged period of uncertainty and economic contraction in Q3 and early-2017, with the subsequent impact on business investment and hiring decisions more pronounced than under the central scenario.  According to the Bank of England's latest inflation report, business investment is expected to fall by approximately 1.75% per quarter, on average, between 2016 Q3 and 2017 Q1.  As this feeds into lower occupier and investor demand, pre-letting activity will be the first to feel the impact of this.  Our lower scenario therefore expects offices output to contract 15.0% in 2017 and 10.0% in 2018.  As Figure 1 shows, these growth rates are substantially lower than our central scenario.
A further risk to long-term growth that cannot be overlooked is from the possible loss of "passporting" rights.  The financial sector is particularly exposed to this and if it occurs, firms are likely to relocate staff overseas, freeing up office space particularly in the City of London and Canary Wharf.  At first, this may sound good in terms of tackling the supply and demand imbalance, but a key question is about the impact on rents.  JLL have reported that this is unlikely to have a significant impact on rents given the chronic shortage of office space, whilst other industry reports have signalled that increased supply will lead to a fall in rents.  The varying industry opinions are a clear reflection of uncertainty and the fog is unlikely to start dissipating until Article 50 is invoked – the formal start of the two-year negotiation process for withdrawal from the EU.
Upper scenario
Looking at the more optimistic scenario, offices output will be 1 percentage point higher than estimated under the central scenario for 2016.  This firstly assumes a quicker recovery of the UK economic situation in Q4, following a temporary dip in Q3.
In addition, under this case we assume continued demand for office space, as long-term leases will help to ensure investor confidence remains intact.  The recent Sterling depreciation may also lure foreign investments into the offices market, particularly in London, given its 'safe haven' status.  Despite this, the exchange rate weakness is unlikely to fully offset any negative impacts of uncertainty on investment returns.  As a result, even in this scenario, growth will still remain in the negative territory in 2017 before returning to growth in 2018.
A final note…
Without doubt, the exact path of growth for offices remains blurred.  However, given market expectations, industry analysis and ongoing uncertainty, it wouldn't be surprising if the near-term situation turns to be like that of the lower and central scenarios rather than the upper scenario.  But yet again, this all depends on how economic patterns unravel.  Upcoming data will be watched closely.