Construction Products Regulation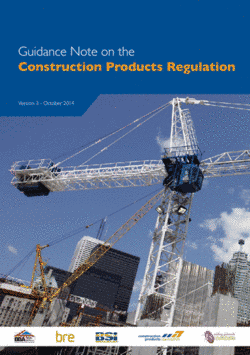 From 1 July 2013, under the Construction Products Regulation (CPR), it became mandatory for manufacturers to apply CE marking to any of their products covered by a harmonised European standard (hEN) or a European Technical Assessment (ETA). This was a major change in the United Kingdom as affixing of CE marking under the old Construction Products Directive (CPD) had been  voluntary.  This, coupled with other changes introduced by the CPR, left the construction industry facing its most significant change for a decade in the way in which construction products were to be sold in Europe.
Interpreting the Construction Products Regulation has been the main function behind the Guidance Note on the Construction Products Regulation which was first published in April 2013.  Since then, the European Commission has introduced further clarifications and additions to the original Regulation which first necessitated the Guide being updated in December 2012.  The introduction of Delegated Acts by the Commission in 2013 and 2014 has required a further updating of the Guide with the publication of Version 3 in October 2014.
The main changes introduced in Version 3 of the Guide cover:
the new rules for placing Declarations of Performance (DoP) on websites
the new template for a DoP and rules for its use by manufacturers
an explanatory text on information to be included in a DoP
the revised descriptions for the five levels of Assessment and Verification of Constancy of Performance (AVCP)
updating the descriptions of the various types of Notified Body
the notification that European Technical Assessments (ETAs) can now be regarded as the Assessment of Performance for a construction product
In addition, the main body of the text has been amended where necessary to reflect the past tense when referring to activities which are now historical.
Version 3 of the Guide continues its function of explaining the implications of the CPR for manufacturers, importers, distributors, specifiers, certification and test bodies, and regulatory/enforcement authorities.  The Regulation is directly applicable in UK law and neither this guide nor its authors purport to offer any definitive legal interpretations.
This guidance note has been prepared by the Construction Products Association (CPA), the British Board of Agrément (BBA), British Standards Institution (BSI) and Building Research Establishment (BRE), in consultation with the Trading Standards Institute (TSI).