Water
In Europe, the construction and the use of buildings accounts for about a third of all water use; similarly, in the UK the built environment is a major consumer of water resources. Water is utilised throughout the construction life cycle, from the extraction of raw materials to make products, through manufacturing, the construction process and in the use phase of buildings for bathing, cooking, cleaning, heating, etc., and at end of life water may be used during the demolition process especially to suppress dust. How the construction sector uses water, the products it puts into buildings and infrastructure and how consumer behaviour is influenced by regulation and the availability of innovative products and processes is therefore highly important.
Most water use occurs during the in-use phase of buildings; i.e., the water we use in our homes, offices, schools, hospitals, shops, hotels, etc. This is called "operational water" and has been increasing per capita over the past few decades.
The other main water impact by the construction sector is in the manufacture of construction products. This is the water used in the manufacturing process and thus embodied within construction products; hence it is called "embodied water". Requests for information on the embodied water of construction products is increasing, (often because the profile of embodied water has been highlighted as an issue in global food production supply chains).
Manufacturers of construction products rely on water for a wide variety of purposes. Water can serve as a lubricant, a cleaning agent, a sealant, a heat transfer medium, a solvent, an air pollution control medium plus an array of other uses depending on the material and products being produced. Water must of course also be supplied for staff welfare purposes on any industrial or commercial site; i.e., via the provision of toilets, showers, basin taps and kitchen facilities.
Although water remains a comparatively low cost resource in the UK, many manufacturers have sought to improve the efficiency of water use in their manufacturing processes as part of general efficiency gains. In addition, those manufacturing waterrelated products, such as taps, baths or drainage and soakaway products, are responding to regulatory and market drivers to provide the new products to enable others to manage their water resources better.
Potential water scarcity issues in parts of the UK is however of growing concern to manufacturers and there is increasing awareness of the business risk posed by possible water restrictions.
All of these issues are described in detail in the CPA's report: Water Efficiency – the Contribution of Construction Products.
For much of the UK's industrial history, water availability for manufacturing has not been a limiting factor and water has not been thought of as a scarce resource. Also, compared to energy or raw materials, water remains a relatively inexpensive commodity. The incentives for improving the efficient use of water have therefore not been as strong as those focused on the use of energy. Concerns over water have traditionally been about its purity, cleanliness and pollution load especially emanating from sewerage or industrial effluent discharge and most of the regulation that has built up around water has concerned these issues. The result has been very positive with a major cleaning up of rivers, such as the Thames and Mersey, and cleaner beaches, seawater and other water bodies.
The efficient use of water is however climbing up the manufacturing agenda and many manufacturers are implementing ways within their processes to use water more wisely - as part of general efficiency gains. In addition, those who manufacture water-related products have been researching and innovating to create the new products that will help others to manage water better, for instance low flow showers, low spray taps and drainage products such as permeable paving and sustainable drainage systems, especially important with the increase in flooding experienced in many parts of the UK, such as in 2014.
For any business, however, any measures to improve efficiency have to be justified in terms of business benefits, and for water, the low cost remains a weak driver for change. But a more pressing business concern is beginning to emerge – that of the future availability of water and the potential business risk posed by possible restrictions of water in the future.
The increasing focus on water management over the last fifteen years has led to advice being developed as to how to think about and manage water resources. A water hierarchy (Figure 6 in the CPA's "Water Efficiency" report) identifies different levels of water management (similar in concept to the waste hierarchy developed under the EU Waste Framework Directive).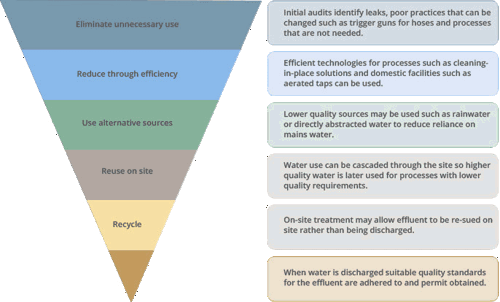 Water is a vital resource for the construction product manufacturing sector in the UK.  One of the primary areas of work for the CPA has been to improve understanding amongst the wider construction industry and policy makers of the ways in which water is utilized in manufacturing processes and the range of efficiencies being adopted and pioneered by the sector.  With this in mind, the CPA published "Water Efficiency – the contribution of construction products", which sits alongside a programme of work by UK-based construction contractors to decrease the use of water on construction sites during the construction phase.  Both contribute to a campaign by the wider UK construction community to improve the efficiency of resource use, in this instance water, and to decrease carbon emissions. As such, the work conceived and coordinated by the Construction Products Association is a contribution to the activities of the joint industry and government's Green Construction Board via its Greening the Industry Working Group.
Other areas of work for the CPA include:
Water as a resource and its future availability to manufacturers.  This includes consideration of the impact of the opening up of the water and waste water market in England in 2017 as a result of the Water Act 2014.  The CPA has produced 'Opening the Commercial Water Market' as guidance for its members on this major change in how water is managed.
Measuring the water embodied in construction products.  The quantity of water used to produce a product is called the embodied water and is measured according to a European standard, EN15804 which produces an Environmental Product Declaration (EPD).  The measurement is about quantity rather quality or scarcity.  Further discussion of this topic can be found in Chapter 5 of the CPA's "Water Efficiency" publication.
Homes and Buildings subject to repeated episodes of flooding are needing different types of products and materials more resilient to being water logged.  This will become a theme for CPA in 2016.
Much innovation has gone into creating and developing products that improve the efficiency of water use; for instance, showers that maintain the sense of water pressure but use far less water, and innovative products to capture water or facilitate run off and soakaway.
Four broad groups of construction products facilitate better water management in the built environment, they are:
Products that help reduce water use in buildings
Products that enable building occupiers and infrastructure managers to recycle or use alternative sources of water
Product systems that channel or soak up rainwater (runoff)
Products that help other product manufacturers reduce water use in their processes
A summary of each product type with some examples of their use can be found in Chapter 3 of the CPA's "Water Efficiency" report.
Water Efficiency Report
This publication focuses on the role that construction products manufacturers have in managing water use and water efficiency.
DOWNLOAD