Skills
The construction industry has lost 343,000 jobs since the financial crisis and will lose another 400,000 to retirement in the coming decade. The Construction Industry Training Board (CITB) estimates that we will need approximately 224,000 construction workers over the next five years, not including manufacturing. With the Construction Products Association forecasting that UK construction output will grow more than 20% by 2019, a significant investment in construction skills will be essential if that growth is to be achieved.
For manufacturers and distributors of construction products, the investment in skills focuses on two key areas. First, the need to attract and train the best and brightest for their own companies across a variety of roles ranging from the shop floors and engineering centres to the lorry drivers responsible for the safe and timely delivery of products to site. Second is the crucial need to ensure that the builders and tradespeople installing those construction products on site are doing so properly, in a way that guarantees the products perform as they were designed to.
Big issue identified by CPA trade association members (surveyed for skills Report 2015)
Those surveyed were given seven responses to choose from and could make multiple choices.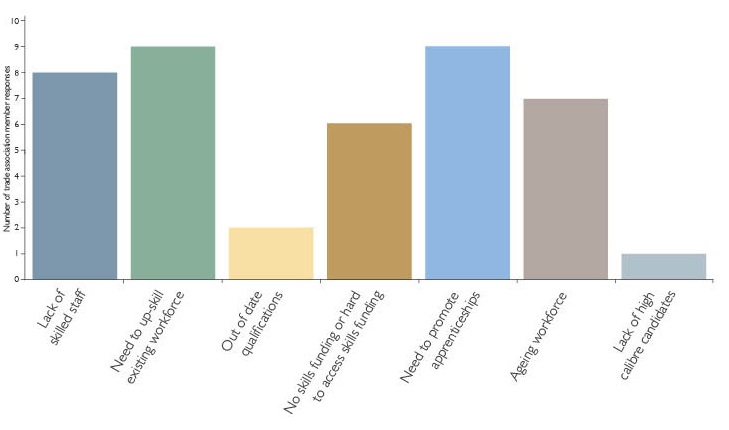 The construction products manufacturing and distribution sectors face serious challenges posed by skills shortages and the need to attract and develop the next generation's workforce to meet future demand. They are meeting these challenges by investing heavily into in-house training and, along with the rest of the UK construction supply chain, by addressing the very complex matter of improving the image and reputation of both construction and manufacturing.
To better understand the extent of in-house training and development, the CPA surveyed its members in 2015 and found:




"There's no doubt that the construction industry as a whole is facing a crucial challenge in attracting and training the skilled workforce of tomorrow. Fortunately, from a manufacturer's perspective, much is already being done to meet that challenge..."
(John Sinfield, Chairman, Construction Products Association)
The construction products manufacturing and distribution sectors widely organise training at their facilities across the UK, particularly to skill the builders and tradespeople in "user training" to ensure that products are correctly installed onsite.
In 2015 the CPA published 'Skills Report 2015' undertaken in partnership with the Construction Industry Training Board (CITB). The report not only mapped the training provision but sought to identify ways of optimising competence and qualifications across the supply chain between manufacturers' training and existing CITB supported qualifications.
The CPA's mapping and survey of existing training provisions show that a great deal is already being done by manufacturers of construction products to advance the skills and training of the supply chain workforce. For example, a 2015 survey of the CPA's largest company members revealed that these firms alone train on average more than 20,000 people through 3,500 courses per year. Most of this training, however, is self-funded, in-house, informal and does not lead to nationally recognised qualifications.
'Skills Report 2015' shows there is a clear opportunity for the construction products industry to place product user training on a more formal footing. By establishing a recognised training process, manufacturers would not only have greater confidence that their materials and products are being installed correctly by qualified individuals, but the builders and tradespeople would be better trained, with more flexible and professional credentials; all of which should in turn improve productivity.
In 2016 the CPA together with the CITB are testing a new process to align training to qualifications where those already exist. Additionally, we are studying the provision of further information, advice and guidance on other avenues of support available so that companies and trade associations can expand and grow their relationship with relevant Sector Skills Councils.
Another important aspect to the skills shortage involves understanding demand with the "big picture" in mind; that is, what skills the entire construction supply chain needs. In 2014 and 2015 the CPA's Chief Executive Dr Diana Montgomery was asked by HM Treasury to chair Infrastructure UK's Supply Chain Capacity and Skills Group, which analysed the demands in the infrastructure sector. The key findings of IUK's National Infrastructure Plan for Skills included:
With the growth in infrastructure investment, the pipeline creates a demand for over 250,000 construction and over 150,000 engineering construction workers by 2020, driving a need to recruit and train nearly 100,000 additional workers by the end of the decade.
The required skills blend to deliver the investment plans will change over time leading to a need to retrain and up-skill around 250,000 of the existing workforce over the next decade in addition to the need to recruit new workers.
A lack of detail on demand and supply – particularly within regions – coupled with fragmented approaches to skills planning and high levels of bespoke training limit the effectiveness and efficiency of labour market mobility. This makes it harder for skilled workers to move easily between sectors and projects, exacerbating key skills shortages for key projects and programmes.
The future of construction also relies upon securing an inspired, motivated 'next generation' of talent; engaging with young people and enabling them to realise the sheer diversity and potential offered by careers in the built environment. Our 2014 and 2015 surveys of members revealed a very proactive industry that is reaching out and offering opportunities to young people: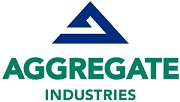 Aggregate Industries
Aggregate Industries' 4000+ UK employees are dedicated to the production and supply of construction materials, including aggregates, asphalt, ready-mixed concrete and blocks. To educate young people about the industry and the diverse range of careers available within it, AI has developed 'Futurepath', an extensive scheme that includes Electrical and Mechanical Engineering Apprenticeships; Higher Apprenticeships in Mineral Products Technology and NVQ General Discipline courses.
Young Enterprise Programmes, supporting the UK's largest business and education charity, help students as young as four through 'learning by doing', while work experience opportunities – from industrial and summer vacation placements, to part-time work and voluntary activities – offer invaluable insight and experience.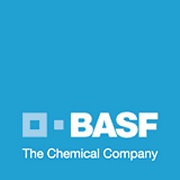 BASF
Part of the world's largest chemical company and manufacturer of raw materials, formulations and systems for energy-efficient and sustainable construction, BASF UK operates from 18 UK facilities and employs 2000 people.
Staff members volunteering as 'STEM Ambassadors' are supported in a range of activities designed to inspire young people, from employer talks and careers fairs, to motivational speakers, college and university visits, coaching and mentoring.
BASF UK's chemical plants host 'Chemistry at Work' open days, where students can meet with chemists, participate in workshops and learn the roles played by BASF products in everyday life.
'BASF House' at the University of Nottingham is a learning hub for sustainability and energy efficiency ideas for the home.

CEMEX
CEMEX is a global manufacturer of building materials, with a 3,000-strong UK workforce providing aggregates, cement, ready-mixed concrete and rail sleepers from over 450 facilities nationwide.
CEMEX UK strives to connect with communities and young people across its vast network of facilities. Notable successes include a decade of supporting an Engineering Education Scheme in Rugby, where young people are encouraged into STEM (Science, Technology, Engineering and Mathematics) fields. Year 12 students are tasked with completing a real engineering project over seven months and CEMEX provides materials, resources, funds and volunteer engineers to assist and assess the students.

SAINT-GOBAIN
With over 45 manufacturing sites, 1000 branches and 17,500 staff in the UK, Saint-Gobain UK designs, manufactures and distributes a wide variety of building products, from windows and photovoltaic glass to insulation, water systems and solar solutions.
Committed to the development of young people, Saint-Gobain actively supports education and career-choice with factory tours, work placements, apprenticeships, training academies, mentoring and partnerships with local colleges and students in construction courses. Like many Construction Products Association members, Saint-Gobain is also a strong supporter of local charities, particularly those for educational programmes and disadvantaged youth.

TATA STEEL
A visit from Prince Charles in 2010 to Tata Steel UK's North Lincolnshire base inspired the structural steel, roofs, walls, light steel, foundations and highway engineering specialist to launch 'Industrial Cadets', a programme promoting careers in manufacturing to pupils aged 11-19.
The eight week curriculum, delivered at a number of schools around Tata Steel sites, includes hands-on team challenges, site visits, presentations and talks, interactive workshops and project work, culminating in the British Science Foundation's CREST Award. Testament to its success, 20 other companies including Airbus, BAE Systems, Glaxo Smith Kline and Jaguar Land Rover have subsequently gone on to adopt the 'Industrial Cadets' initiative.
CPA Trade Associations
Our 40 trade association members are proactive in reaching out to young people and promoting careers in construction. Some, such as the Brick Development Association, Contract Flooring Association, Mineral Products Association and British Woodworking Federation, lead the way in organising training academies, shaping qualifications, offering financial assistance and advising on job opportunities.
The Builders Merchants Federation typifies such efforts at a grassroots level.
With over 450 members around the UK, ranging from SMEs to multi-nationals, BMF addresses the unique contributions made by knowledgeable, professional merchants and retailers between manufacturers of construction products and the tradespeople who are their customers.
BMF initiatives include recruitment open days, an array of Apprenticeship schemes and further training such as Diplomas, Degree courses and even a Post Graduate Diploma leading to a Masters Degree.