Call for Evidence on construction product information extended
By Matt McKeown at Monday, April 8, 2019
The Construction Products Association (CPA) has extended its Call for Evidence on construction product information to Tuesday 23 April 2019. The survey forms a critical part of the construction industry's reform post-Grenfell, addressing the issue of how construction product information is made available to the wider supply chain. This was one of the various challenges put to the construction industry in the Hackitt Review of Building Regulations and Fire Safety.  
To date the survey has attracted over 400 responses, largely from manufacturers and distributors of construction products and architects. The CPA's Marketing Integrity Group, who designed the survey, has decided to extend the call for evidence to improve the number and balance of responses from across the construction supply chain. Engineers, consultants, contractors, surveyors and facilities management/ maintenance professionals and organisations are therefore particularly encouraged to respond.
Adam Turk, Chair of the CPA's Marketing Integrity Group, commented: "We've been encouraged to see so many responses to our survey in the space of just a few weeks. A strong balance of input from across the supply chain, however, is crucial if we are to make recommendations that can really have an impact. Your input is vital to helping us reduce risk in our built environment."
Click here to complete the call for evidence by Tuesday 23 April. The CPA's Marketing Integrity Group intends to publish its findings and recommendations in the autumn.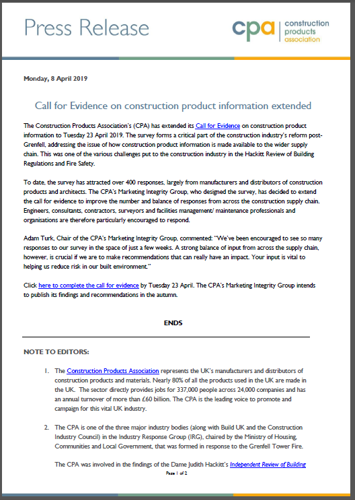 By Matt McKeown at 8 Apr 2019, 10:00 AM