Construction products shape and enhance our 'built environment' and enable everyday life.
We represent the UK's manufacturers and distributors of construction products and materials. Our members include large multinationals, many medium sized companies and 33 trade associations with thousands of SMEs and family-run businesses.
We represent
directly
providing

working
across

with an annual
turnover of more than
Number of business by size - construction product manufacturers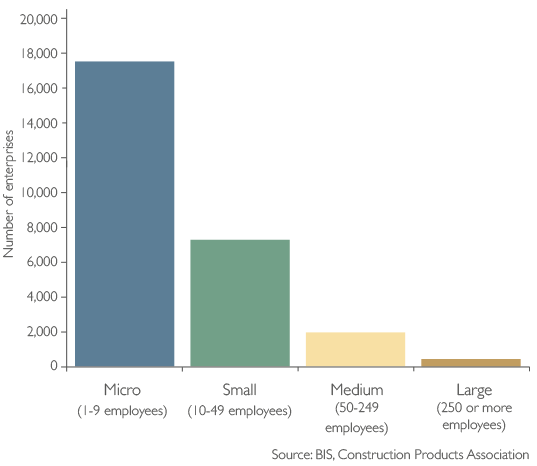 One Strong, United Voice
The Construction Products Association is the leading voice to promote and campaign for construction product manufacturers and distributors.
The CPA is committed to raising the profile of our industry and members' businesses, helping grow the market and reducing regulatory risk.
We champion our members' interests across both the manufacturing and construction industries. Because we are product-neutral, the CPA speaks for the construction products industry as a whole with one strong, united voice..

The CPA aims to provide our members with unique expertise and support, including:
tracking and assessing government policies
interpreting those policies and regulations and providing expert advice
leading consensus with members and the wider construction supply chain on major issues
representing our members across industry-wide organisations and alliances
supporting and lobbying policy makers in the UK and EU to develop effective, evidence-based policies and solutions
producing authoritative economic, technical and sustainability publications
Ultimately, the CPA is here to provide our members and policy makers with the real value and insight to ensure this vital UK industry achieves a successful, sustainable future.